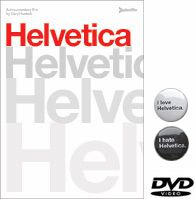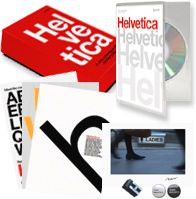 The DVD includes the full 80-minute feature film, plus over 90 minutes of additional interviews with Massimo Vignelli, Matthew Carter, Erik Spiekermann, Hermann Zapf, and more. (The director Gary Hustwit says, "we basically edited 41 short interview segments, each around two to five minutes long. If you've seen the film, you'll have an idea of the format of these.")
NTSC Region 0, 16×9 anamorphic widescreen presentation, full-color booklet, English and German language subtitles. Release date: November 6. Pre-order now, you'll save $5 and receive early shipping (a week before street date) and two love/hate Helvetica film buttons.
There's also a limited edition 1000-run version that includes three letterpressed mini-posters, a color C-print of a still from the film (one of ten different stills) signed by Gary, two love/hate Helvetica buttons, and a letter of actual Helvetica metal type.
I've ordered my copy already!
UPDATE:
DVD extra #1: Hermann Zapf on his work, Univers, Helvetica, and coffee (streaming Quicktime movie)
DVD extra #2: Helvetica DVD extra #2: Wim Crouwel on his "Proposal for a New Alphabet" (streaming Quicktime movie)
There are 38 more interviews like these on the DVD.