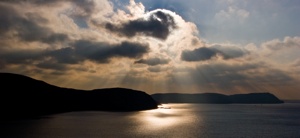 One of my photographs has been used by design agency the fifth kingdom for the latest set of adverts pushing the Isle of Man .im domain. Which is nice…

Apparently Domicilium's presentation at the last domain conference went down a treat as no-one else had bothered to pay much attention to advertising or branding, and as a result the T5K's design skills shone though even more.
Speaking of the .im domain, the effective opening up of the market for second-level .im domains has been a long time coming — previously it was limited third-levels such as example.co.im and it cost an excessive £100GBP or so — but now that it's opened up it's the usual land-grab and wild domain speculation.
Each domain is £40 to register, with two letter domains for £495 and one letters for £995. (All ex. VAT.)
Companies selling instant messengers are the most likely to be interested, though they'll have to deal with the usual squatters and with arbitration happening in the Isle of Man, the world's oldest continuously running parliament with its own laws and therefore courts, legal matters may be a little trickier and costlier to pursue.
I do wish they'd sort themselves out a proper whois server, though, web-only lookup is just odd…